Welcome to the North West Film Archive, the professionally recognised public home for the moving image heritage of the North West of England.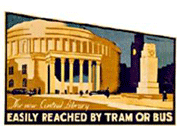 TEMPORARY CLOSURE
The Archive is now closed for business as we relocate to Manchester Central Library, where we will re-open in spring 2014 as part of the new Archives+ partnership.
Update: Central Library to open on 22nd March 2014.

In the meantime, please continue to explore our collections on this website and to watch NWFA content on Vimeo.
You can read about the new partnership here and on the Archives+ website.
Updates on our relocation will be provided on this website, on Twitter and Facebook.
Thanks for your patience and we look forward to seeing you in our new home!
Find out about our FREE iPhone App - Manchester Time Machine.
You can search the NWFA online catalogue of over 5,800 titles [for best results use Safari, Google Chrome or Firefox as your internet browser when searching our collections].
Search Your Film Archives allows you to search across film archives throughout the UK.
See the programme of NWFA public screenings.
Check out the What's On page for the latest news and events.
Set up in 1977, the Archive preserves moving images made in or about Greater Manchester, Lancashire, Cheshire, Merseyside and Cumbria and offers a variety of access services to users in the public, academic and commercial sectors.
The NWFA is part of Library Special Collections at Manchester Metropolitan University.